Publication "Make a Painting of Trees Growing in a Forest"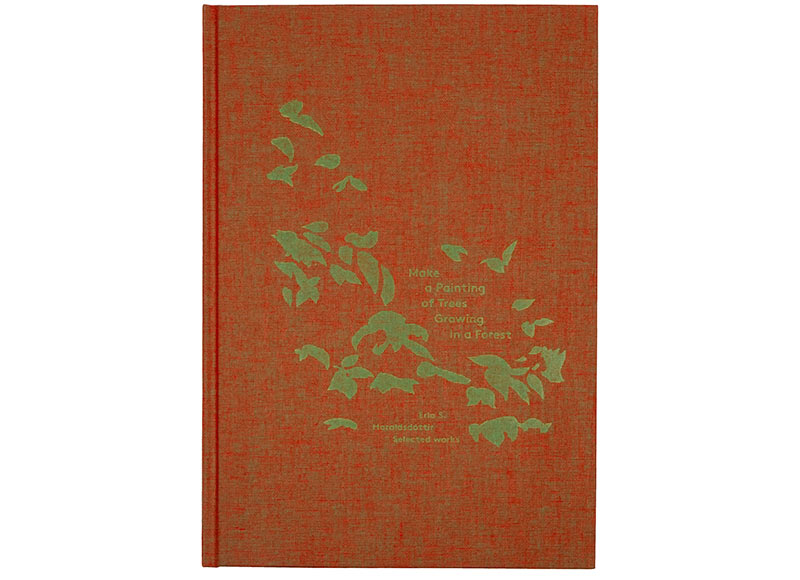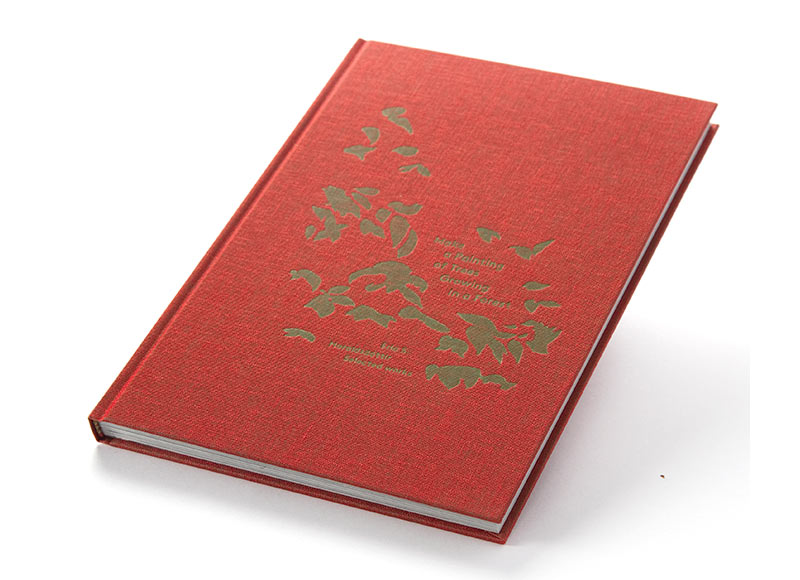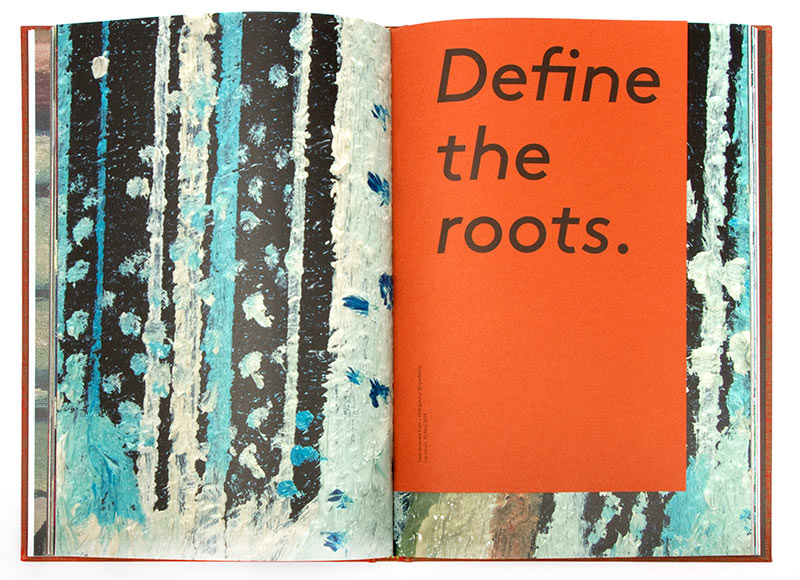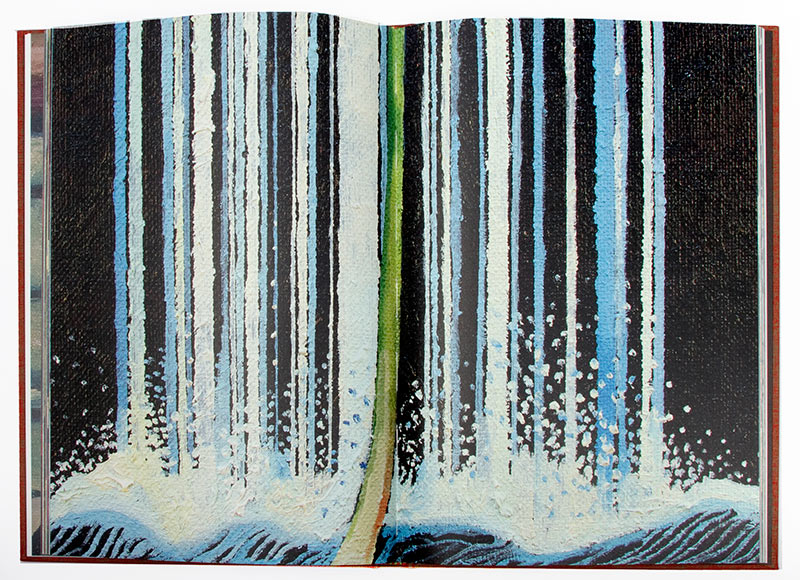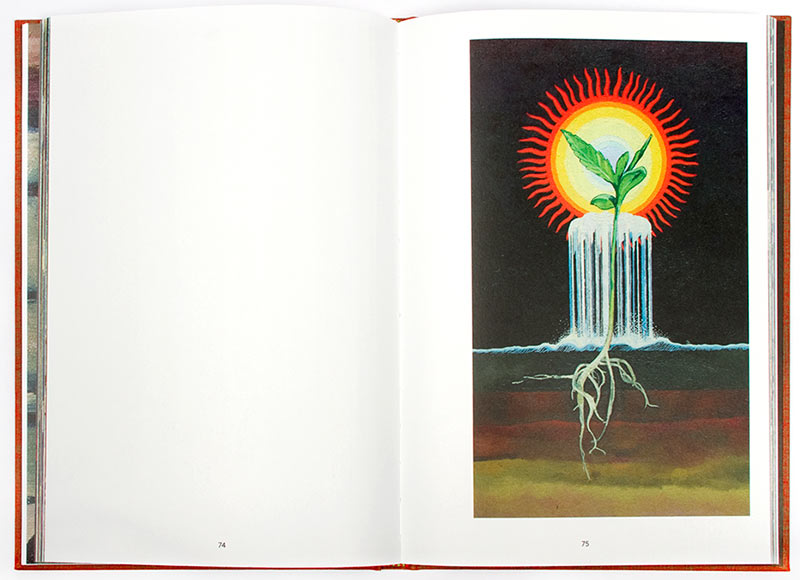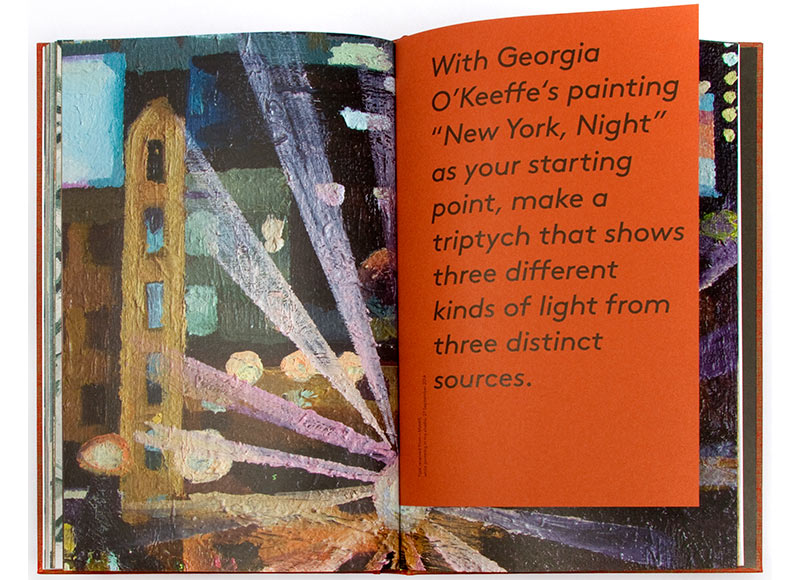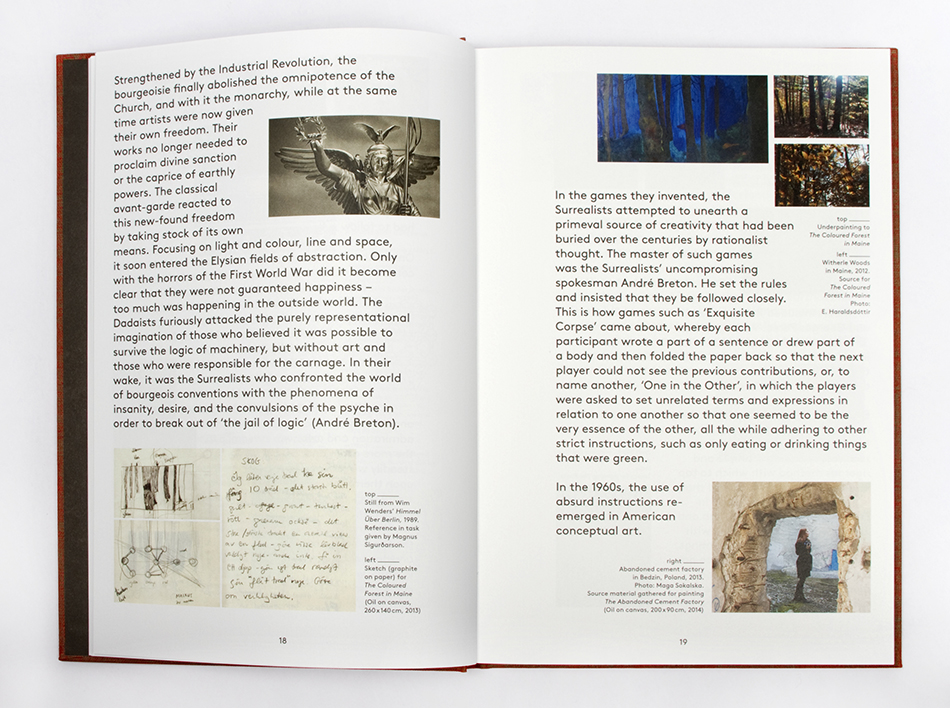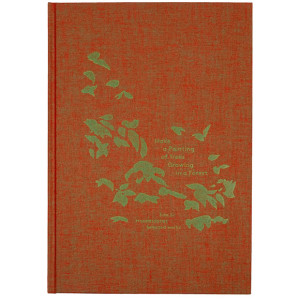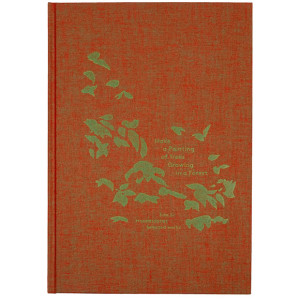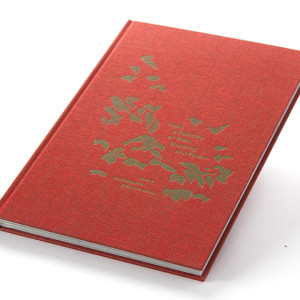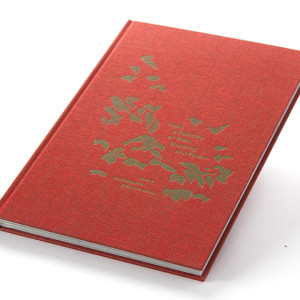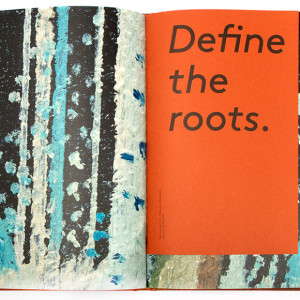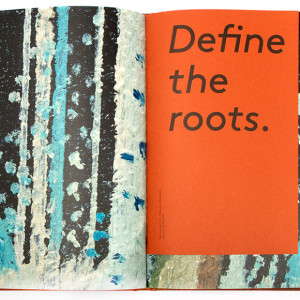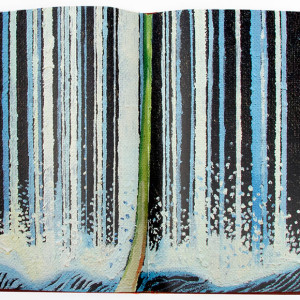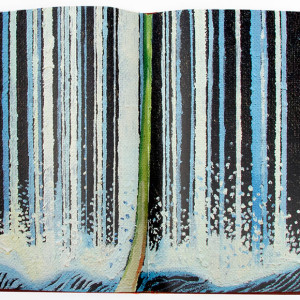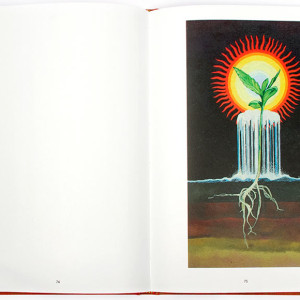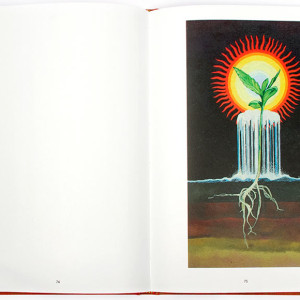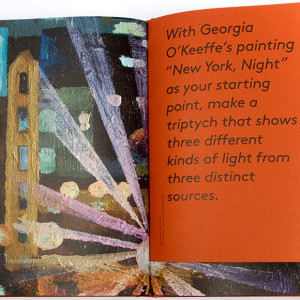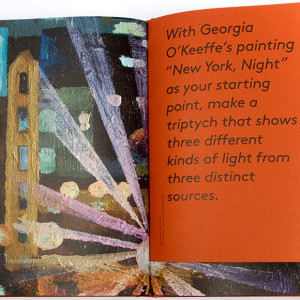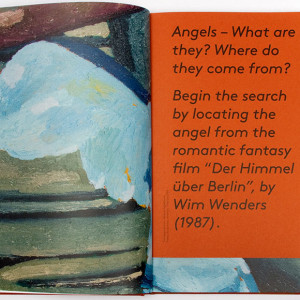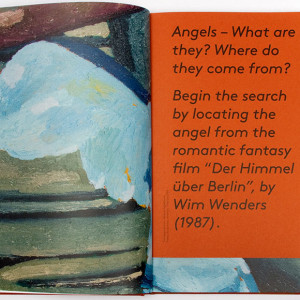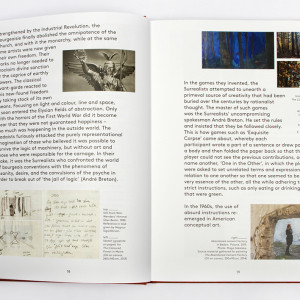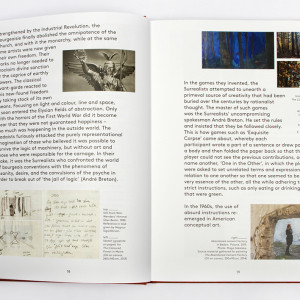 With source materials, references and paintings of
Erla S. Haraldsdóttir, between 2012-15.
What would a relational field look like when not mediated by the logic of commodity transaction?
Erla S. Haraldsdóttir's practice unfolds through delicately expressed moments. The first is the receipt of a task. The title Make a Painting of Trees Growing in a Forest, for instance, refers to a task that Erla received, and which provoked her painting The Coloured Forest in Maine (2013). Tasks are not a test of Erla's known capabilities; they are anticipations of, or become invitations to, encounters she may have with the unknown in herself.
The second is the nature of encounter with references, or "sources". The references via which we make sense of the world are multiple; they could be a memory, a photograph, a fragment from a conversation, a story, a movie, a book, a piece of music, a moment from history, an artwork. Exploring a reference in order to unlock or enlarge a task affects the way aspects in a reference get emphasized. And so, the tasks Erla receives draw her into fresh entanglements.
In her practice, Erla proceeds by putting herself to a test to lose control, and then to discover and invent. Rather than being consumed by mastery of a medium, Erla's practice, and the openness with which she elucidates it in this book, steers the conversation to questions of how and with what an artist might come to her medium.
Thick with photographs of Erla's paintings made between 2012 and 2015, drawing tasks, references and paintings into a relationship, and with thoughtful texts on Erla's practice by three of her interlocutors from the art field, this is a beautifully designed book on painting as both an act and a deliberate process of artistic discoveries.
(Text by Shveta Sarda, editor and translator)
__ __ __ __ __ __ __ __ __ __ __ __ __ __ __ __ __ __ __ __ __
In Icelandic
Með heimildum, vísunum og málverkum eftir
Erlu S. Haraldsdóttur, frá árunum 2012-15
Hvernig liti tengslasvið út ef það stæði utan við rökvísi vöruskipta? Iðja Erlu S. Haralsdóttur birtist í varfærinni tjáningu augnablika. Fyrsta skrefið er að fá verkefni afhent. Þannig er til dæmis titillinn Gerðu málverk af trjám sem vaxa í skógi, verkefni sem Erlu áskotnaðist og leiddi af sér málverkið Skógarlitirnir í Maine (The Coloured Forest in Maine, 2013). Verkefnin fela ekki í sér að prófa þekkta getu Erlu; þau eru fremur (hug)boð um mögulegt stefnumót við hið óþekkta innra með henni sjálfri. Næst er það eðli stefnumótsins – við vísanir eða "heimildir". Vísanirnar sem við notum til að ljá heiminum merkingu er fjölmargar. Það getur verið minning, ljósmynd, samræðubrot, sögu, kvikmynd, bók, tónverki, brot úr mannkynssögunni, listaverk. Rannsókn á vísun, í því skyni að opna eða víkka verkefni, hefur áhrif á það hvernig ákveðnir tilvísunarþættir eru undirstrikaðir. Þannig draga verkefni Erlu hana á slóðir nýrra flækna. Í starfi sínu leitast Erla við að koma sér í prófraun í því skyni að missa stjórnina, og í framhaldi af því að uppgötva og finna upp. Í stað þess að einblína á það að ná valdi á miðlinum sýnir hún hann opinskátt í þessari bók, beinir umræðunni að spurningum um það hvernig og með hverju listamaður geti komið að miðli sínum. Bókin er prýdd fjölmörgum ljósmyndum af verkum sem Erla málaði á árunum 2012-15, og bræðir saman teikniverkefni, vísanir og málverk. Bókin hefur að geyma úthugsaða texta um iðju Erlu eftir þrjá talsmenn hennar á listasviðinu. Því má segja að um sé að ræða fallega hannaða málverkabók sem er í senn gjörningur og meðvitað ferli listrænna uppgötvana.
Publisher
Contributors
Christoph Tannert
Dr. Kyllikkii Zacharias
Jonatan Habib Engqvist
Design
Ariane Spanier Design, Stephie Becker
Pages
128
Dimensions
170 x 280 (mm)
Binding
Hardcover
Weight
450 g
Exhibition
Kalmar konstmuseum, Sweden
ISBN
978-9935-420-61-9